FAVELANEWS
Young journalists from the favelas in the north of Recife, Brazil, use film, photography, and news reporting to tell stories about the beauty, strength, and flavor of their communities.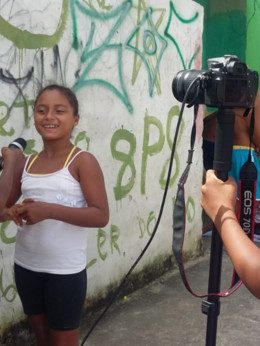 CANAL CANOA
Indigenous and traditional communities in the Amazon have developed their own, oft en very effective, techniques of childhood education and health care.
79% of projects changed government policy in a progressive direction.
63% of participating youth became leaders in their community.
83% of participants became mentors to other kids.
And perhaps most shockingly, 38% of participants went on to higher education, in comparison to fewer than 3% of poor children in Brazil, Colombia, or Argentina.
Our FavelaNews project reduced homicide rates in four of the most violent favelas of Recife from 600/100,000 to fewer than 10.
YouTube and Facebook have registered more than a million views of our films made in collaboration with marginalized children.
Our work in the Amazon won the 2016 Intercultural Innovation Award from the united Nations.
En Busca de la Vida, our telenovela made with indigenous youth in La Paz, was shown on national TV in Bolivia.
MAKING A DIFFERENCE FOR 15 YEARS
Making a difference for 15 years. At Shine a Light, we know that real change happens when marginalized people take power into their own hands. That's why the Civil Rights movement worked, why businesses can no longer force children to work in factories, and why people can now marry and be friends with whom they choose.
As we teach children from the favelas and from indigenous and poor rural communities to make films, they not only communicate their ideas: they also begin to imagine themselves in a new way. They aren't just victims, just invisible: they're filmmakers, artists, musicians, dancers, and protagonists on the world's stage.
The Princess in the Alleyway - The Brazilian favelas as you've never seen them before!
Severina, a ten year old girl who lives in a narrow alley in a favela in Recife, Brazil, sees something completely different from the slums people see in movies and on TV. For her, life is a fairy tale of conflicts and romances between kingdoms and princes, where dragons might attack at any time and love is always just around the corner.
Severina tells the story of her prince, Okado, a young break dancer who has been cast as a gangster in a nightly soap opera. Okado wants to present an honest portrait of a gangster on TV, so he interviews the drug dealers in his and in enemy favelas... only to find that the real godfather of crime, a corrupt police officer, wants no one asking questions in his territory. At the same time, he learns that the TV director doesn't want a realistic gangster, but a cartoon ghetto villain.
Mixing documentary honesty with the innocence of a little girl, The Princess in the Alleyway shows the Brazilian favela like you have never seen it before.
Rent or buy the video at Vimeo on demand.
All proceeds from the sale of this video go towards supporting our work in marginalized communities around Latin America.